PCWB Documentation - Break settings Interface Manual
Download
Help Home
PC WorkBreak Home
TriSun Software Home
---
Purpose

Sets your breaks.

Open Method

Click <Break Settings> button on the main interface.

Interface and Illustration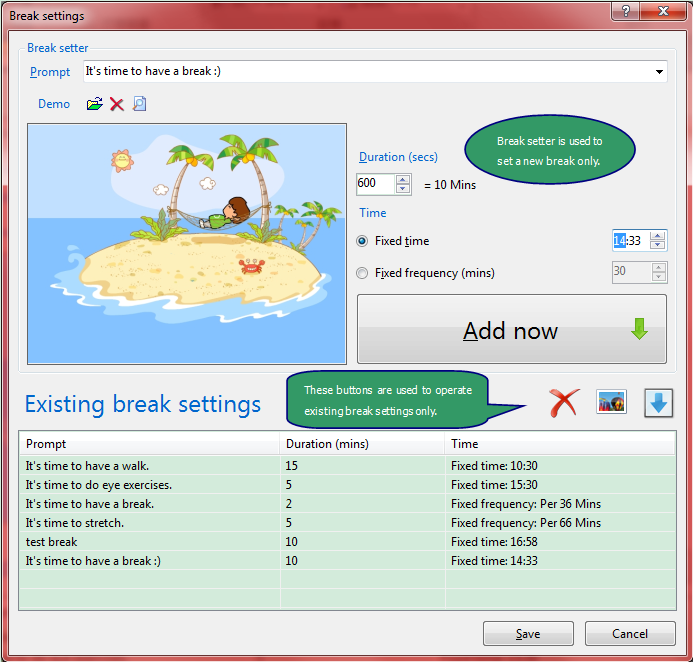 Fields Explanation
[Prompt] - must be filled, click the drop-down button can select a built-in prompt and will fill demo box with the corresponding demo.
[Demo] - selecting a built-in demo will fill [Prompt] with the corresponding prompt.
[Fixed Frequency (Mins)] - counts time after program started or saved existing break settings.
Commands Reference
- selects a demo for current unsaved break setting.
- removes current demo from break setter.
- views full demo for the selection.
<Add Now> - adds break setter's setting to existing break settings.
- removes the selected row from existing break settings <Del>.
- views the demo of the selected break.
- loads predefined break settings.
<Save> - saves the data according to "Existing Break Settings".
<Cancel> - closes this interface without save <Esc>.
Tips
"Break Setter" is only used to set a new break, cannot modify an existing break setting. To modify the existing break setting, please remove it and then add one.
Usually, you don't need to change break settings, just use the predefined settings.