PC WorkBreak - cares your health during PC work.
---

100% Freeware, FREE download v1.02 for Windows®, 2.16 MB, updated at Nov 23, 2012.

It is 100% Freeware, welcome your donation with any amount as you like.

Recommend it to your friends.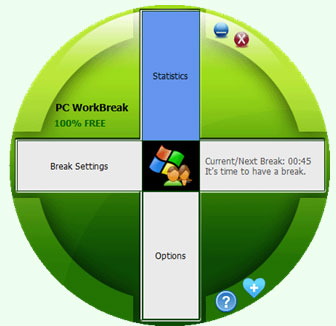 Description
PC WorkBreak
provides proper reminders to reduce your RSI (Repetitive Strain Injury) risk. It offers multi-type break reminders such as micro-break, stretch, eye exercises and walk, based on your PC usage model. Compliance rates are also provided. Follow a good break setting will help heavy PC user to release body pain induced by long sitting or frequent keyboard/mouse usage. All break settings are configurable, and you can use your favorite picture or animation (gif) as reminder demo.
PC WorkBreak supports top 11 most popular international languages: English, Simplified Chinese (简体中文), Traditional Chinese (繁體中文), Spanish (Español), Japanese (日本語), Portuguese (Português), German (Deutsch), Arabic, French (Française), Russian (Россию), Korean (한국어).
Key Features
Flexible Break Settings
Professional Stretch Demos
Breaks Compliance Statistics
Unicode Supportable
Supports Multi-language

100% Freeware, FREE download v1.02 for Windows®, 2.16 MB, updated at Nov 23, 2012.
Supported OS
Windows 2000/XP/2003/Vista/7/8 or higher.
32 and 64-bit applications in ONE copy!
Support PC WorkBreak (100% FREE)
PC WorkBreak is 100% Freeware, if you think it is good, it's welcome for you to support it by
Making Donation
, Writing Article or Comment,
Recommending to Friend
and Linking to Your website.
Softoxi Editor's Opinion
If you need a handy, easy to use and efficient tool that can help you remind to take a break, then you should try PC WorkBreak. It is also a lightweight and friendly tool that does its job very well.
Softoxi Editor's Description
If your job is very stressful and you keep forgetting to take a break, then you surely could use a handy tool that can help you and remind you to do that. PC WorkBreak is such a handy tool that provides a very easy and efficient solution for this need.
PC WorkBreak is a simple to use, powerful and very useful tool that provides break reminders. Moreover, this piece of software provides multiple types of break reminders: for a simple break, for some stretching, for eye exercises or for having a walk. Also, PC WorkBreak lets you set the exact time when to take a break and also set the break duration.
Whenever the time for a break start or break end has arrived, you will be notified with a pop-up window, an image, a message or with the help of a played audio file. This amazing piece of software lets you change the type of the reminder, as well as the image, message and the audio file.
PC WorkBreak comes with an user friendly interface that makes it very simple to be used. Also, whenever you minimize it, PC WorkBreak will go directly in your system tray, so it won't occupy any of your precious desktop space.
Moreover, this neat piece of software is very convenient because it is portable. Therefore, you can carry it around with you on a portable device and use it whenever you want. Furthermore, another convenient feature of PC WorkBreak is that it requires only an insignificant few of your computer resources.
To sum it all up, PC WorkBreak is an easy to use and handy tool for those who forget to take breaks from work and therefore, endanger their health. Moreover, this piece of software is completely free.
TechRepublic's Description
PC Work Break is a multi-type break system that will remind you to take micro breaks, stretching breaks, eye exercises, and even walks. What is unique to PC Work Break is that it focuses on specific PC usage models. PC Work Break features: Flexible break settings, professional stretch demos, breaks compliance statistics, unicode support table, 32 and 64 bit support, and multi-language support. PC World Break supports Windows 2000, XP, Vista, 7, and 8.

100% Freeware, FREE download v1.02 for Windows®, 2.16 MB, updated at Nov 23, 2012.
Video Tutorial

100% Freeware, FREE download v1.02 for Windows®, 2.16 MB, updated at Nov 23, 2012.