Tip: we also produced a powerful and popular utilities kit for Windows -

WinExt®
, feel free to try it on your PC.
Background
Sometimes, you may need to use telnet to do something.
But after launched cmd.exe, input telnet, you will get this prompt:
'telnet' is not recognized as an internal or external command, operable program or batch file.
That is, Windows cannot find telnet command, it's surprised: telnet is included in Windows XP already, why it is lost in Windows 10?
Solution
Intuitively, I think the telnet command can be installed in Windows 10 Control Panel, after tried it, my intuition is entirely correct.
The steps as below:
Press <Win+R> -> type control and press <Enter> -> click "Uninstall a Program" (under "Programs" category) -> click "Turn Windows features on or off" at the left sidebar -> find out the "Telnet Client" item and check it in the opened list -> click <OK>. Like this: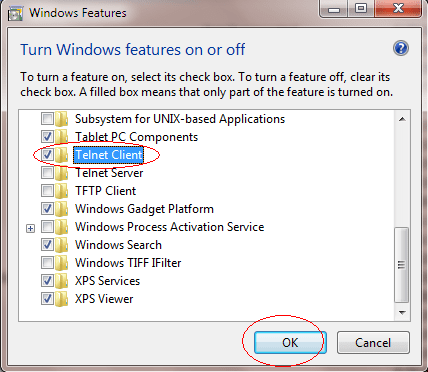 Now, run cmd.exe again, input
telnet ip
, it works properly.
[Reward]

Tip: we also produced a powerful and popular utilities kit for Windows -

WinExt®
, feel free to try it on your PC.