It should be your first choice to contact us, just click "Let's chat?" on the bottom right corner of any our webpage. It's FREE.
Get:
When you have NOT received the license eMail after paid.
Retrieve:
When you lost the license eMail, or the license key is changed in the new version.
Don't worry. It's
FREE
to get it here!
Just
input your eMail address
to get it now!
# Note
Please specify the correct eMail address (the one used to buy our products or just your PayPal eMail address).
If you still cannot get your license, please contact support[at]TriSunSoft.com
Please send any bug report, suggestion, question or comment to us at following addresses:
Technical Support
Nosa Lee, support[at]TriSunSoft.com
Sales
Qiulin, sales[at]TriSunSoft.com
Website Administrator
Jack Chou, WebAdmin[at]TriSunSoft.com
# Note
It's a FREE service.
We only accept eMails in English.
Your emails will be replied within two working days.
Sometimes, you cannot get technical support or get your license key by email.
If you encounter such a situation, please don't worry. There is only ONE reason:
We cannot receive your emails or you cannot receive our emails (spammed or rejected).
So, if you encounter such embarrassment, please don't hesitate to request support by using other email addresses until you get it.
Although this probability is small, but you still have to pay attention to this situation.
# Why? When?
When you cannot properly use our software products (even have read the documentations), or cannot solve the problems by yourself (even used the free eMail support), it's time to use our remote support service. It's a real-time and hand-to-hand service, your problems can be solved soon by our support team.
# Method
We provide the remote support service via accessing you PC by using
TeamViewer
.
# Steps
It's very easy!
Just send your TeamViewer ID and Password to support[at]TriSunSoft.com
(please use the
order email address
to send these), and keep your TeamViewer running, we will access your computer timely at work. The TeamViewer ID and Password like this: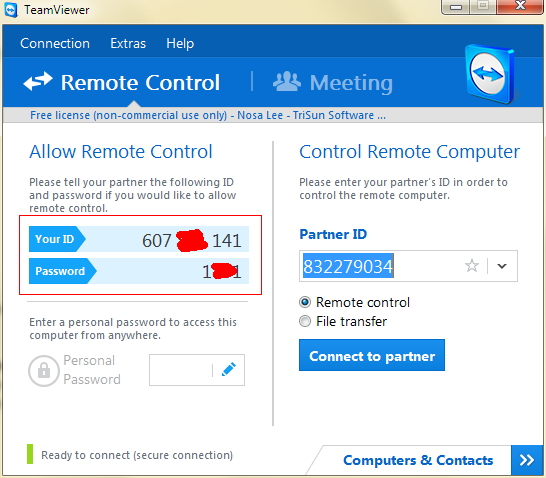 # Service Coverage
All our software (shareware and freeware) customers.
# Price & Buy
>>> If you don't have a PayPal account and you don't want to create one, you can still buy by choosing the "Pay with my credit or debit card" option on PayPal order page.
# Appendix: How to use TeamViewer
If you have never used TeamViewer, there is a simple guide, also very easy:
1.
Download the latest version of TeamViewer
, it is FREE for personal use!
2.
Install and run it. Just run, no configuration is required.
If you have some special requirements about our software products, even any other software requirement, please contact us at support[at]TriSunSoft.com, we can customize it for you. In this case, we will charge you US $65/working hour besides the software license fee.
During the holidays, in addition to eMail/remote support, all business will operate as usual.
That is, you can download and use our products, visit our websites and blogs, place your order and get/retrieve your license as usual, but your support request
may
not be responded in time.
The following is a list of
2019 holidays
, for your reference.
New Year's Day: Jan 01.
Traditional New Year: Feb 04 - Feb 10.
Ching Ming Festival: Apr 05 - Apr 07.
Labor Day: May 01.
Dragon Boat Festival: Jun 07 - Jun 09.
Mid-Autumn Festival: Sep 13 - Sep 15.
National Day: Oct 01 - Oct 07.