Tip: we also produced a powerful and popular utilities kit for Windows -

WinExt®
, feel free to try it on your PC.
Thinking
I think everyone can use <Ctrl+C/V> to copy or paste something on Windows, but this way is only for previous ONE item, no history, let alone common text. But I still think Windows is powerful, it must have this feature built-in, based on this, then I tried to type "clipboard" after pressed <Win> key. Good job, I found something useful there.
Step 1
When you are typing, press <Win+V>, the Clipboard box will show as below: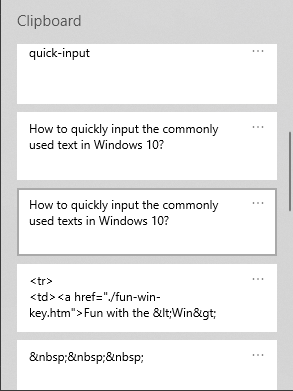 Step 2
Then press <↑/↓> key or scroll down/up the mouse wheel to select the text as you need.
Step 3
After focused on the target, press <Enter> or click it to paste it to current cursor location.
Advanced Usage
1. Pin the Commonly Used Items
You can use the menu of an item to keep it even reboot Window or cleared the Clipboard, sure if the item is no longer used frequently, just Unpin it:

Please note that the pinned items will display at the bottom of Clipboard list, and I think this is a design flaw, displaying them at the top is a better design.
2. Delete an Item or Clear List
As above screenshot showing, you can click the menu (...) button on an item to delete it, also, here is a "Clear all" command, click it will clear the list except the pinned items.
3. Paste the Screenshots
The Clipboard list can also store the images, usually, they are the screenshots that you taken by <PrtScr>, <Alt+PrtScr> or other tools. Based on this, when you are working in Word, Paint or other programs that support to paste the images, just press <Win+V> and follow above steps to paste the selected photo.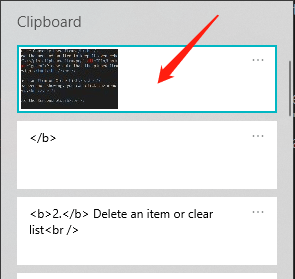 4. Not Working?
If the clipboard history is not working, please press <Win> and type Clipboard, select "Clipboard settings" and then press <Enter>, on the opened window, make sure "Clipboard history" is On.

[Reward]

Tip: we also produced a powerful and popular utilities kit for Windows -

WinExt®
, feel free to try it on your PC.