100% Freeware, FREE download v2.0b for Microsoft® Windows®, 160 KB.
# Manufacturer/Author: MicroTask Computer Services
# Tested Operating System(s): Windows XP x86, Windows 7 x64
# TSSI Review & Manual
Now, I introduce to you a FREE software that can get various color codes at anywhere on your screen by mouse, such as RGB, HTML, Delphi, VB, VC++, Assembly color codes.
It is ColorSPY, the latest version is 2.0b, I like this CASE tool very much, if you are a programmer or designer, I think you will like it also.
Install & Run
It is portable software, just double-click it to run, no installation need.
Get Various Color Codes
After ran it, just move your mouse to anywhere on the screen to obtain the color code like this: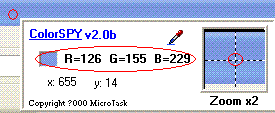 Change Color Format
You can use it to get RGB, HTML, Delphi, VB, VC++, Assembly color codes directly, just right-click on its main interface, and choose the format as you need like this: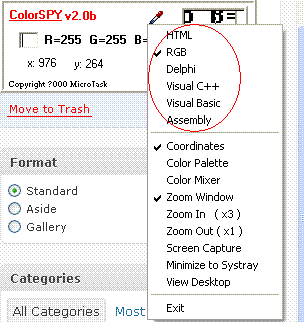 Get Other Color Codes by a Known HTML or RGB Color Code
It provides you with the Color Mixer (right-click its main interface and click Color Mixer menu item), maybe the author want you use it to make various colors by adjusting the RGB values, but I usually use it to get other color codes by a known HTML or RGB color code, just input a HTML color code (beginning with #) or adjust RGB values like this: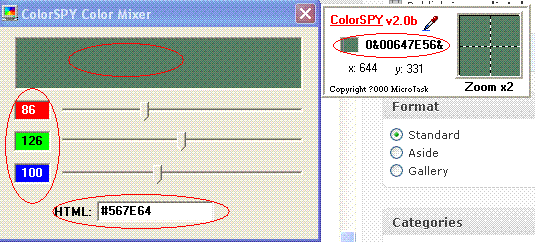 Hide/Show
It running in the system tray area, to hide/show it, just click the following tray icon:

Defects
I think has two:
Screen Capture feature cannot work, more serious is: it will let you get an ugly mouse pointer, and can not be restored except rebooting your computer.
Can not copy current color code that you got, you need to input it into your program code or other software interfaces manually.
Nevertheless, I think it is still very useful for programmers and designers.