100% Freeware, FREE download v1.2 for Microsoft® Windows®, 514 KB.
# Manufacturer/Author: ed123
# Tested Operating System(s): Windows 7 x64 (Requires .NET 4.0)
# TSSI Review & Manual
LockCD can help you to lock the CD-ROM, in order to avoid ejecting by inadvertent touching.
Now, the effect of CD-ROM in the PC is very small, and CD-ROM is not standard configuration, even it can be removed directly. But some PCs still have the CD-ROM, and the ejecting that caused by inadvertent touching is very annoying.
Now, LockCD can lock your CD-ROM, in the future, the CD-ROM will not eject again, either accidental touched the physical Eject button or clicked the Eject context menu item.
# Screenshot(s)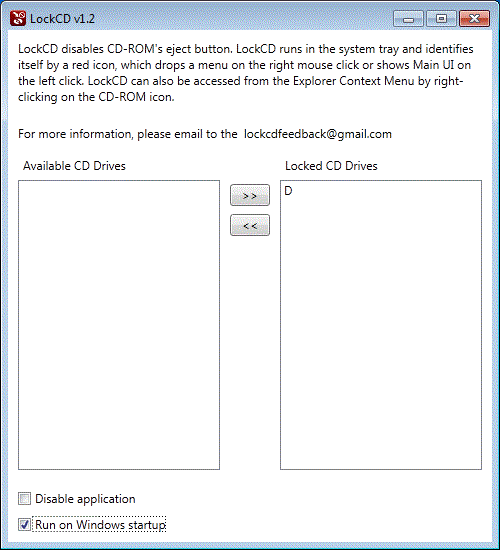 # Defect(s)
Needs .NET 4.0, it is not friendly for Windows XP/7.
Once locked, cannot unlock, except restart your PC.