100% Freeware, FREE download v2.1.4.0 for Microsoft® Windows®, 1.64 MB.
# Manufacturer/Author: Chris Gingerich
# Tested Operating System(s): Windows 7 x64
# TSSI Review & Manual
How to do if you want to save a piece of text on the Internet as a TXT file, or save a piece of code as a BAT file? You may copy this text -> create a new txt or bat file -> open the new file by Notepad -> Paste the text to the opened new file. Now, with Paste As File, this work will to be so easy:
Copy the text or image and navigate to the target folder in Windows Explorer, now, right-click the blank space under this folder and click "Paste As File" menu item, at that time, just input the file name and extension as you wish in the opened dialog box and click <OK>, the file with your copied content will be created automatically.
The file name has a default value and the extension uses the last one by default, of course, you can freely change it according to your need.
At last, this freeware supports many image and text formats, such as JPG, PCX, PNG, BMP, TGA, GIF, TIF; TXT, CSS, DOC, and so on.
# Screenshot(s)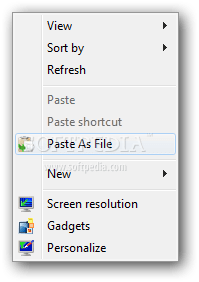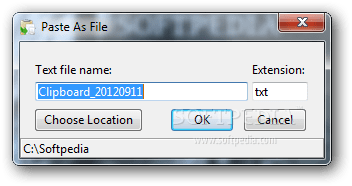 # Defect(s)
It is better if it use the drop-down list to display the extensions.
I installed it on Windows XP Professional x86, unfortunately, not work.